Just starting out?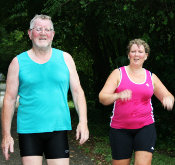 Most of our events cater for beginners, walkers and children, like the Summer Trout Fly and the Winter Cross Country. But if even that intimidates you, if you are extremely unfit, or if you just want to start with something very low-key, don't look past our Winter Sunday Beginners.

From May to October each year, a group meets at Arias Farm in Western Heights on a Sunday afternoon, and goes for a walk up the Jubilee DOC track. There are no prying eyes so you can sweat and wobble in peace and quiet. And you go at your own pace. There's no race and there's nobody to try and keep up with. If you have to stop every few steps, so be it. It's an out-and-back course. You all follow the same path, and you all turn around and come back after 30 minutes. So everyone still starts and finishes at the same time.
All you need are some walking shoes, leggings or trackies, tee shirt and warm long sleeve top, a watch so you know when 30 minutes is up, and your drink bottle. Teenagers and kids over the age of 8 years (with a guardian) are all welcome. This is great for the whole family to start together! And your first three walks are absolutely free.

Winter Sunday
Beginners Details