Walk, walking, walkers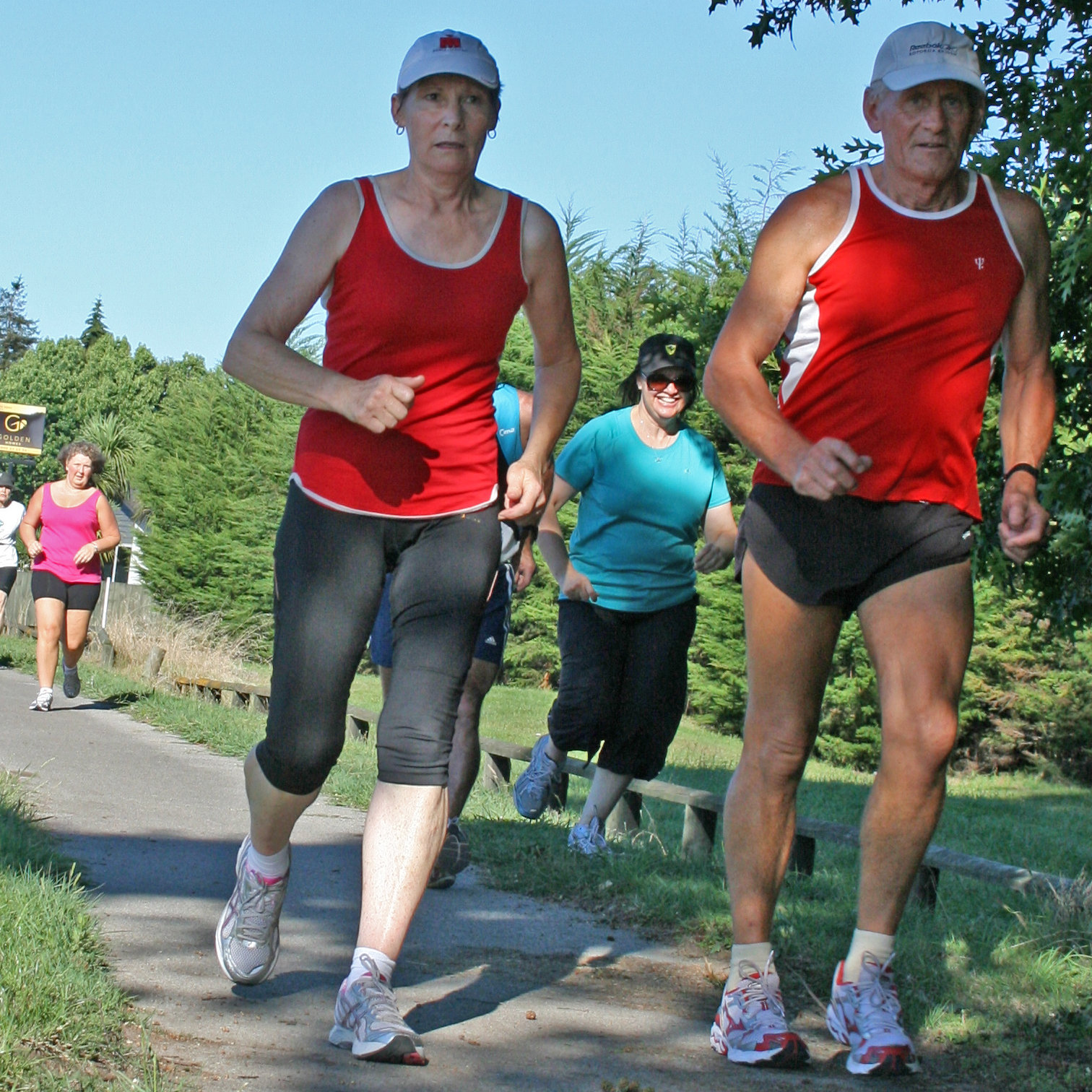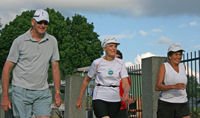 Who said walking was boring?? It's anything but.
From the Sunday Beginners, Trout Fly and Cross Country, to our speedy racers on the Marathon Walkers Clinic, we have a walking event to suit your pace. Walking is so good for you as it is low impact, especially on worn joints. Yet it is still extremely challenging if you are walking at pace or uphill. One of our track sprinters joined a race walking event recently, and at the finish she was breathing just as heavily as she normally does after a full sprint.
One of our standard Club Rules for walkers, is that if you join a training session or event as a 'Walker', you should only walk, and not run at any time. If you are planning on jog/walking, you simply put your name down as a runner, and you are welcome to walk at any time during a 'run'.
Winter Pack-Walking
Walking is done in 'Pack Walks', that is, everyone walks together in a group. It's great because you are so busy chatting away and making new friends, that you often don't realize how far you've walked! The Winter walking sessions are the best for beginners to join in, as they are much shorter than the Summer Marathon Clinic walks.
Weekdays
During the winter (after the Marathon is finished at the end of April), the walkers meet at 5.30pm on Tuesdays and Thursdays at the Hennessey's Bar in Tutanekai St. As it is gets quite dark in Winter, the street lights enable them to complete some good long walks still. And if it is raining they can still go as they simply duck under shop verandahs to keep dry. During winter the pack walks are usually about 1 & 1/2 hours.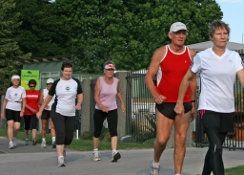 Sundays
On Sundays the walking group meets at the Lake City Athletic Clubrooms at Neil Hunt Park off Tarawera Rd at 7.30am for a walk in the Redwoods and surrounding areas. Complimentary tea or coffee is always available at the club rooms afterwards for members.
The Walkers are a very social group and go for dinner the 1st Tuesday of each month after their walk. The venue is usually decided the week prior.
Saturday Cross Country
The Walkers also attend most of the Club's normal winter Cross Country events; simply walking rather than running. But they still do most of the full (longer) routes as many walkers still need to keep up the distances especially if people are planning on doing half marathons/marathons etc later in the year.
The Walkers Group has approximately 30 members and this number is usually fairly consistent.



Marathon Walking Clinic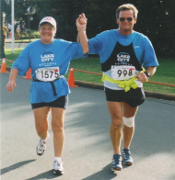 The "Marathon Clinic" starts the 1st week in October where the walkers commence a full 6 month training program. The Clinic is led by Colin and Pat Smyth, who have loads of experience and valuable information to share with you, having been both marathon runners and marathon walkers themselves for many years.
New members do need to be able to walk comfortably for 1 1/2 hours at the beginning of the Walkers Clinic. So it's a good idea to start during the winter season if anyone is interested in joining. During the Clinic, walks are again set for Tues & Thurs nights, and the longer walks on Sunday mornings.
Walkers are encouraged to have at least 1-2 years regular walking under their belts, plus the full Clinic program before attempting to do a marathon anyway (but there are always exceptions of course). Over the years a pattern has been noticed that walkers who don't do the full 6-month buildup prior their first Marathon, sometimes have injuries etc and don't come back. The 6 month Clinic program is there to also allow time for these injuries to heal.
Over the middle stages of the Marathon Clinic, the longer Sunday walks can reach 6 hours or more, before tapering back down to allow the body to heal and rest for the big day. So if your body is not up to running a marathon, why not try walking one with us!