Welcome to Rotorua's historic running club – We cater for your whole family!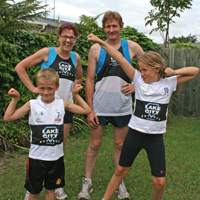 Our greatest satisfaction is helping you discover the enjoyment of walking, running, jumping and throwing with people of similar abilities.
From the overweight beginner to the finely tuned athlete.
This is the Browne family, taken one year after first joining Lake City Athletic Club. They had no previous history of athletics involvement, and certainly didn't look like this when they first joined! Look at 10 year old Aria's confidence now…

Join Us Now!
2014-2015 Registration Form
NOTE:
Please ensure you complete the form fully before sending it in
---
Who have you dumped the kids with today?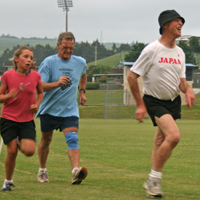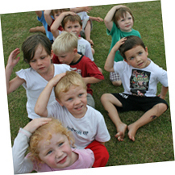 You want your kids to be fit and healthy too. Bring them along to our next event; kids are very welcome at Lake City and we have lots of events that the whole family can do at the same time and place.
Grandparents love getting involved with the kids too. What better example can you set for your children?
---
The absolute best value club for your money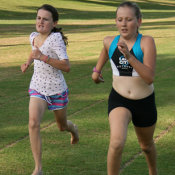 Lake City has a rich history, with seniors who have been with the club for many decades. Our retired members love to remain involved, by providing free coaching and motivation to our all members. Kids and adults alike, really enjoy the time and patience that our experienced athletes have to offer them.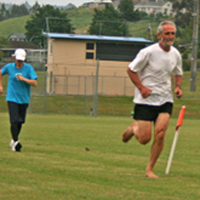 You don't need fancy or expensive gear, simple shorts and running shoes will get you started. We even have a couple of bare-footers in the club like Dave. And the forest is free so we make the most of it, with our club rooms located right on its doorstep!
We are one of the most affordable clubs in the entire Waikato/Bay of Plenty. As our club success is shared with our members, so you only pay a nominal subsidised fee to join in our fantastic club.
---
There's really no excuse at all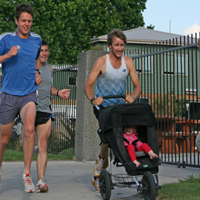 Yes we all lead busy lives, but with so many events over the year at different times of the day, you can fit in quite a few. Work stress? So get out of the office and enjoy feeling your heart beat for a good reason again.
Steve, one of the clubs fastest Marathon runners, is a full time roofing contractor with a young family and baby number 2 on the way. That doesn't hold him back, as he won a 5km event around Sulphur Point pushing his toddler in her pram the whole way! If you look real close, you can see she has a big grin on her face.
---
We are all around you, helping you get started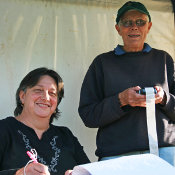 Our club is active in the local community. You may have spotted our members helping at various events like the Rotorua Marathon, the ever-popular Ekiden Relay, or the Inter-Schools Cross Country meet.
No matter how slow you are, our goal is to get you involved in events that you can enjoy as you get fit. Walking, running, jumping and throwing is so good for your whole body, it helps keep you feeling young and vitalised. And you might just surprise yourself and discover you are half-way decent at something!
Don't sit on the couch any longer. Who cares if you take 6 hours+ at a marathon? At least you will be giving it a go and feeling a whole lot better about yourself.