Stop trudging the footpath by yourself!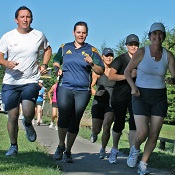 There are lots of others like you, out for a walk or jog by themselves. Join us instead in the fun activities we do together. Most activities are in the forest, away from public eyes if you are self-conscious.
We won't tie you down with club bureaucracy; you are welcome to simply drop in to casual events like the Trout Fly 3 or 5 km walk or run and give it a go.
Just rock up to an organiser and let them know you are a newbie. You will be surprised to find how easily you fit in.