Children's Athletics Season 2023-2024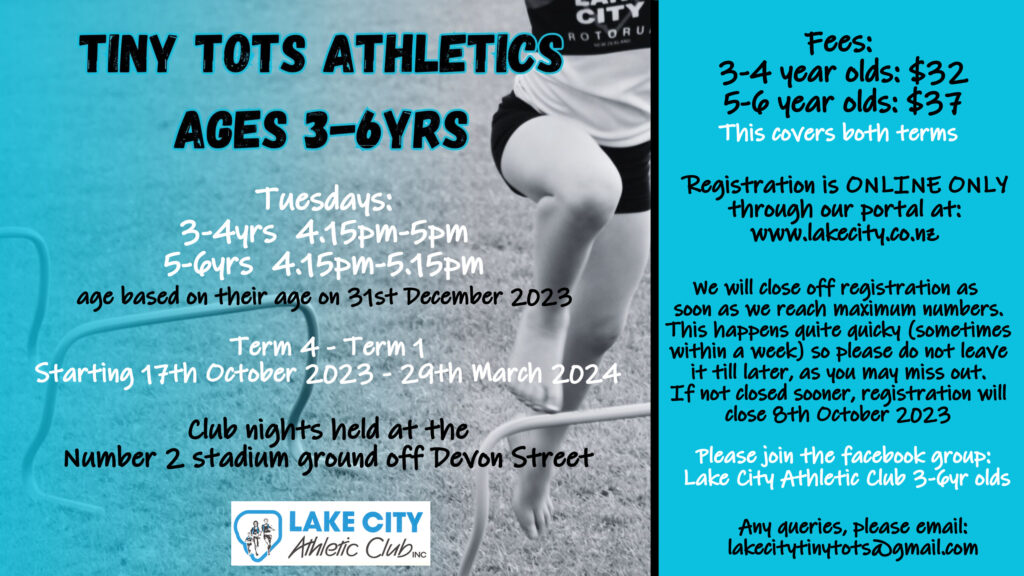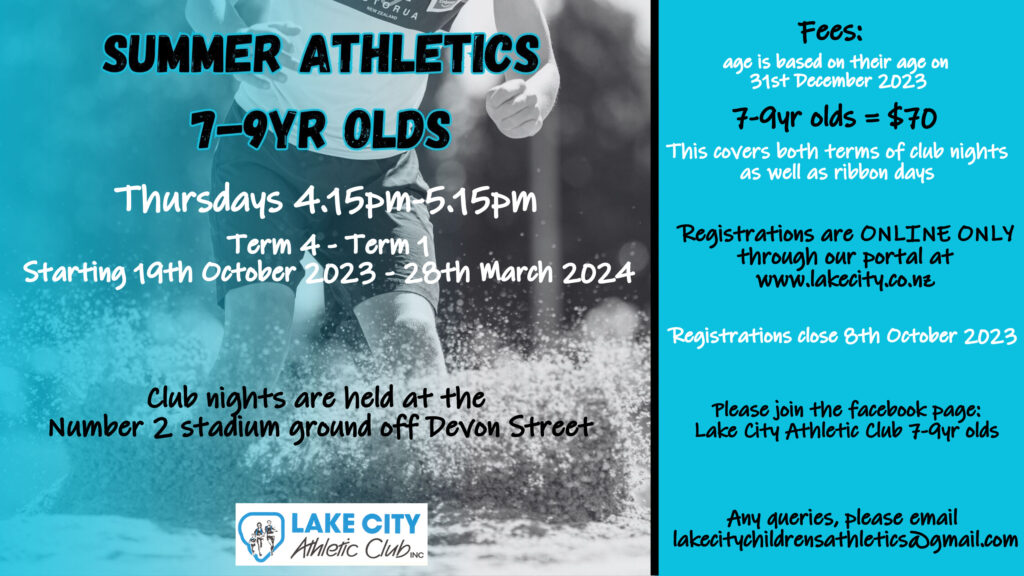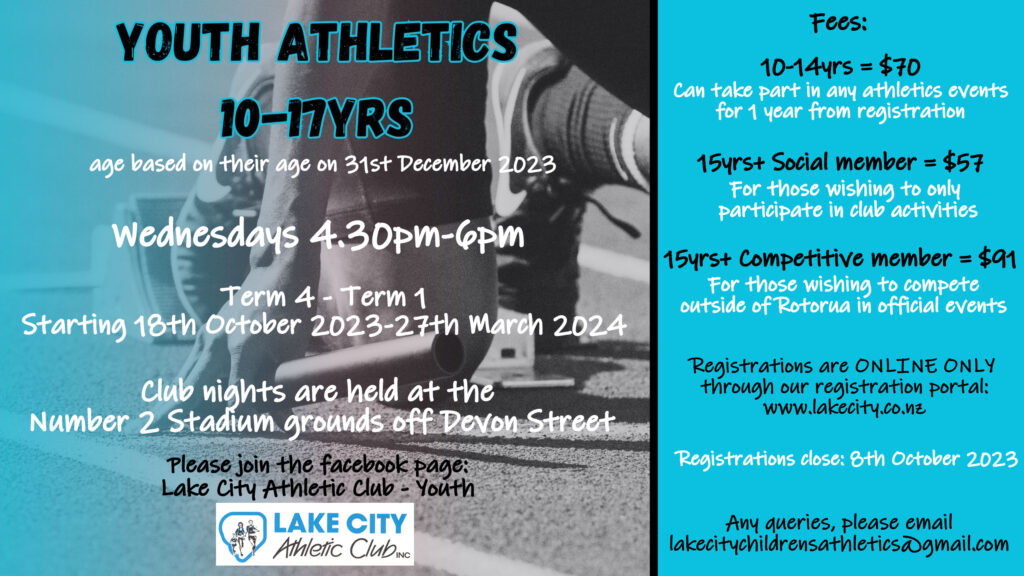 Facebook
Lake City now has separate Facebook groups for the 3-6 year old children, the 7-9 year old children and the 10-17 year old children.
Follow for the latest info, discussions, photos and news about Children's Athletics
Lake City Tiny Tots 3-6 yrs
Lake City Children's Athletics 7-9 yrs
Lake City Children's Athletics 10-17 yrs

Records
See the Lake City children's athletics records here
Children's Athletics Calendar
2023-2024
To Be Confirmed
Registration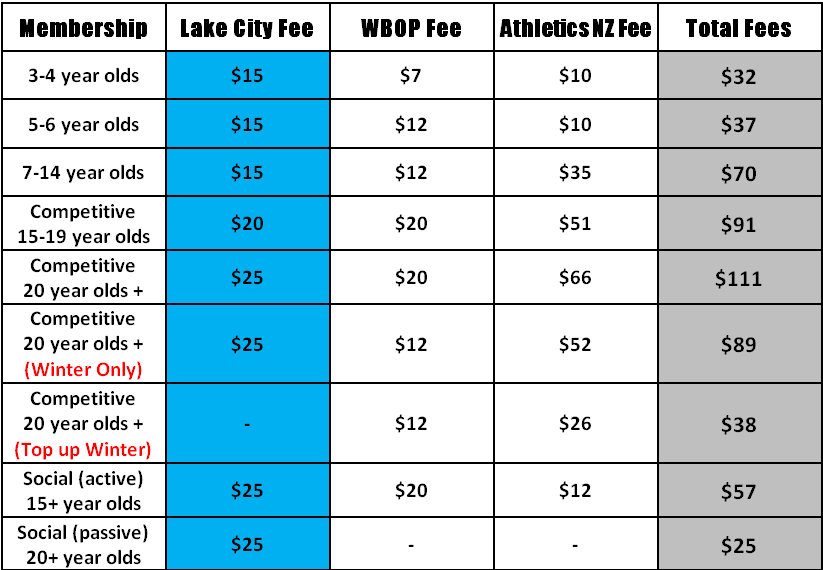 For enquiries, please email the corresponding email addresses
15+ years old: admin@lakecity.co.nz
7-14 year olds: lakecitychildrensathletics@gmail.com
3-6 year olds: lakecitytinytots@gmail.com
Click here to proceed directly to the MEMBERSHIP PORTAL
Cross-Country
Children to come along with a parent/caregiver. April – October each year
Please refer to the Cross Country page for more information
Trout Fly
Come along with a parent/caregiver for the event every second Thursday over summer.
Please refer to Adult Events – Trout Fly page for more information.
No expensive gear needed
For the first night, your child can turn up in normal shorts and shirt. Once they join, they will need plain black shorts and the Lake City singlet (please refer to the registration form for prices). We will give you an age patch to sew on, if you plan to compete on Ribbon Days or inter-club events.
Basic sneakers or flats are all that is needed for the field events. Bare-foot is fine while running on our track on training nights, but running shoes are necessary for Cross Country or Ribbon Days.
Athletics
In summer we have our exciting weekly athletics events at the track. Children are grouped by their ages, and they get to try the run, jump, or throw event each Club Night. Many are new at athletics, so most of the summer is simply practice at each event.
The coaches help and coach co-ordination skills, sprints, hurdles, long jump, high jump, shot put, and discus. Athletics is great for children of all abilities and fitness levels, with a wide variety of activities to get them active. They might not be sprinters, but could do well in throwing. It's not about comparing yourself to others, but working on your own improvements.
At the season end, best achievements are recorded for each child, to be able to compare on a yearly basis and to measure improvements.
There are free Ribbon Days around the district open to all members. Ribbon Days are at the very social end of competition, held most Saturdays around the district. You don't need to pay or sign up, you just turn up and take part. The aim is to get children involved, no matter their ability, so most do get ribbons.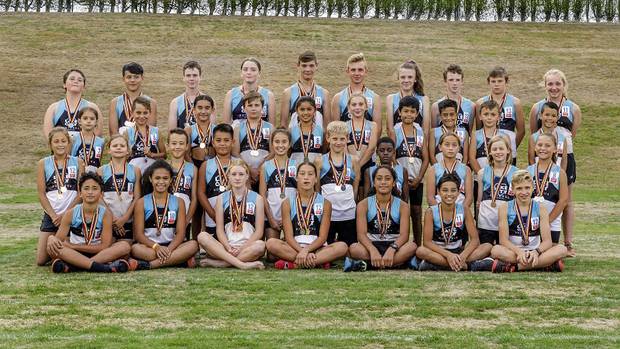 Coaches
Our Children's Coaches/Helpers are senior athletes, retired members, or parents who have spent time learning the sport. They are all volunteers who enjoy teaching and watching children develop their motor skills to become confident young athletes of their own right. It's great to see a child come out of their shell and give it their all!
Competitions
There are various competitions to attend, such as Waikato-BOP Champs, Inter-provincials, the Twilight Event and Relay Champs.
Each year in January, Athletics NZ hold the Colgate Games for those children who would like to move up to competing with other children around New Zealand. Please follow on Facebook Lake City Children's Athletics to know more about the events, when and where they are happening.