Welcome to Rotorua's historic running club – 'Lake City Athletic Club'
Lake City Athletic Club Incorporated
Redwood Forest Relay
To find out more about the 2023 Redwood Forest Relay to be held on the 17th Sept click here
Registration
The membership criteria for members aged 20 and over has again been reviewed by the Executive and it has now been agreed that we align our Club subscription to be on a Rolling Annual Membership basis, the same as that directed by Athletics NZ in respect of their levies. This change will only apply to senior (20+) and social member categories.
The 12-month membership for senior (20+) athletes and social members will begin on the day of purchase and expire on the same day the following year.
The previous Social Member class has now been divided into two classes.
(A) – Social (Active) Members. These members can take part in club Winter activities (Saturday harrier events) and/or summer track activities and will pay the full club subscription and the ANZ fees. (Please note there has been a reduction in the ANZ levy).
(B) – Social (Passive) Members. These members will not be able to take part in any club Winter or Summer track activities. They can, however, still take part in the likes of our organised events for which a separate entry fee is payable (e.g., Red Stag Half Marathon or the Trout Fly). This is a category that will apply to many of our social members who join to be able to use the clubrooms as a base (alone or in conjunction with other members) and /or who kindly provide their volunteer services in helping the club operate it events and other activities. These members will pay only the full club subscription (and no fee to Athletics NZ or Athletics Waikato BOP).
All other membership categories remain unchanged.
Note that all fees payable (to both ANZ, Athletics Waikato BOP and the Club) are incorporated into the detail of the on-line membership system. Members simply choose the membership option applicable to them and complete the on-line form (and of course, pay the resultant total membership fee).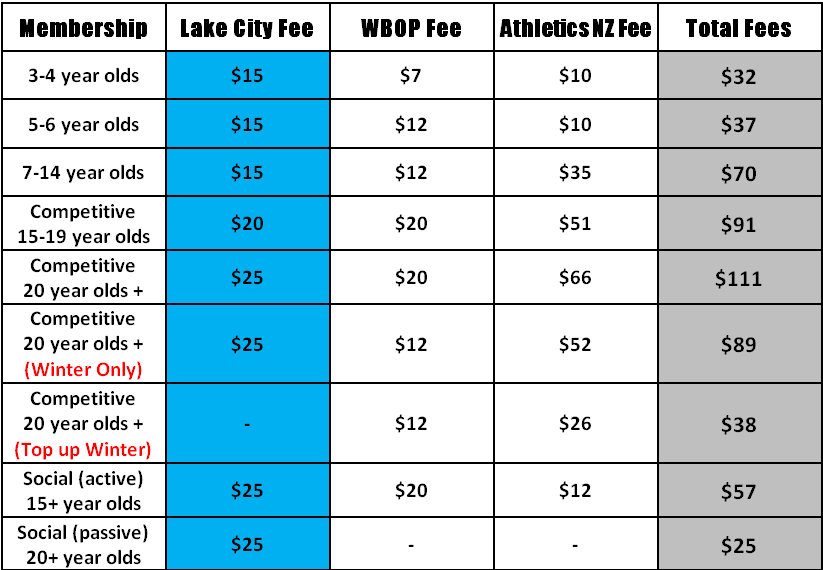 Winter Season
The Lake City winter season is under way.
Great events for people of all abilities. Often with shorter courses for the children.
Trout Fly
Is under way. Come to the Lake City clubrooms for a fun 5km or 3km run every second Thursday over summer
Your choice of 2.5km or 5km RUN, JOG, or WALK
• Course winds through the picturesque Sulphur Flats area
• $5 for adults, $3 for children – you don't need to be a club member • Includes a free drink
• BBQ sausages & hot chips afterwards
• Great family event [young children must be accompanied though]
• Good starting point towards January's 10km, ½ or Marathon Clinics
• Find new motivation with us – stop trudging the footpath by yourself!
• FREE CLUB MEMBERSHIP* if you complete 10 out of 12 events *Eligibility – only if you have never been a Lake City Member
It would be appreciated if you could bring the appropriate cash for the event being entered.
All welcome!
Facebook
Follow us on the Lake City facebook page!
https://www.facebook.com/lakecityathletic
Activities
Lake City Athletic Club has various club activities such as:
Running Groups
Walking Groups
Children's Athletics
Senior Track and Field
Winter Harrier and Cross Country
As part of these groups we also have running/walking clinics for the marathon, half marathon and 10km.