10Km – to – Marathon Clinic for Walkers and Runners

2013 Running Clinic
Information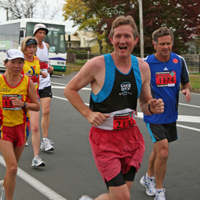 In mid January we run a 15 week 10Km, Half & Full Marathon Clinic from the Lake City Athletic club rooms into the scenic Redwoods. With the goal of running in the Rotorua Marathon at the end of April. As a build-up event we participate in the Kingsgate Half Marathon in early March. Whether you are planning to run the Half or Full Marathon, take advantage of the full program, as the experience and information you can gain is invaluable.
The clinic involves organised Sunday runs, which are run at an easy pace to build up time on the feet. Participants are sorted into groups of similar pace so you don't have to struggle to keep up. It is recommended that you can slow-jog for an hour at your own pace at the start. However we have even had a few who have only ever jog-walked 5km. We have runners that run anywhere from 3-hour to over 5-hour marathons, so there are plenty of different abilities in this Clinic. There are also organised runs on Tuesdays and Thursday evenings from the club, so the clinic runs 3 times per week.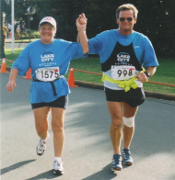 Most of the running will be in the forest with some longer road runs towards the end of the training. The forest provides a great training ground with fantastic scenery and a variety of running surfaces so its not as hard on your body or joints.
Each clinic participant is given a well tested training program, great advice from experienced club members, information on where to run including route maps, solid support and camaraderie, and a year's associate club membership, all for the nominal fee of $50. You also have the fantastic opportunity to purchase a genuine Lake City Athletics Club singlet or tee shirt for your actual run on the day, which guarantees you lots and lots of crowd support, encouragement and recognition for simply being part of Rotorua's local running club and giving it a go!

Editorial 2011
Marathon Feedback

Sample Clinic Newsletter
18th Feb 2011
---
Runners Marathon Clinic
Runners Schedule:
-Commences mid Jan to the end of April
-Sundays 7am – usually the longer, slower, endurance run.
-Tues & Thurs 5:30pm – usually the shorter, faster runs, or harder hills.
-From the Lake City Clubrooms, Neil Hunt Park off Tarawera Rd (behind Outdoorsman)
For further details contact:
- Jodie [4hr marathon] 021 970482, 345 3070 a/hs
- Kerris [5hr+ marathon] 021 753691 swingmills@xtra.co.nz,
- Rachel [2hr+ half marathon] 027 3630644 brownera@hotmail.com
---
Walkers Marathon Clinic
Walkers Clinic Schedule:
-Commences early September to the end of April
-Sundays 7am
-Tues & Thurs 5:30pm
-From the Lake City Clubrooms, Neil Hunt Park off Tarawera Rd (behind Outdoorsman)
For further details contact:
-Colin Smyth on 0274 999471
-Pat Smyth on 027 3341425.
Here are some great links for the actual events:
-Rotorua Half Marathon
-Rotorua Marathon