Summer Trout Fly for the whole family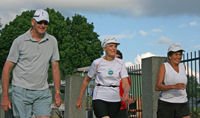 No – we aren't fishing, we're just trying to get you moving fast enough to keep away from those dreaded lake flies!
The Trout Fly is our most popular event for 'Newbies' (casual walkers and joggers) during Summer. You don't have to be a club member, and can simply rock up to any Thursday event when you find time in your busy schedule.




Trout Fly Schedule
for 2012-2013
You choose a 3km or 5km walk, jog, or run through the picturesque Sulphur Point area. The course is fairly flat so you can even push a pram or lead a dog. The Trout Fly is great for the office ladies to get out together, the sports team to get some extra training in, or even a break from cooking the family meal. For your $5 you also get a drink and BBQ of sausages and chips afterwards. Yaaay, no cooking on Thursday nights!
---